Inspire your organization
to improve its safety maturity.
Designed for EHS leaders
new to their role or those experienced
but always looking to expand their knowledge.
A

ccess tools to

help you

facilitate conversations

around why health and safety matters:
Take time for yourself to reflect on who you stay safe for

Review the safety maturity of your organization

Discuss what excellence looks like

Download a complimentary 2-hour workshop kit, including session guide and handout
How does it work?
30 min free e-learning course

Immediate access to short, impactful content

Accessible in your own time

No time limit. Access content and resources over and over again

New resources and content are frequently added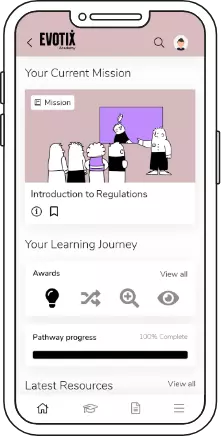 FAQs on Evotix EHS Academy
What can I expect from Evotix Academy?
Which industries does Evotix help to transform the way they manage environmental, health and safety (EHS)?
Are Evotix solutions available on mobile devices?