New Balance Reduced Incidents By 18%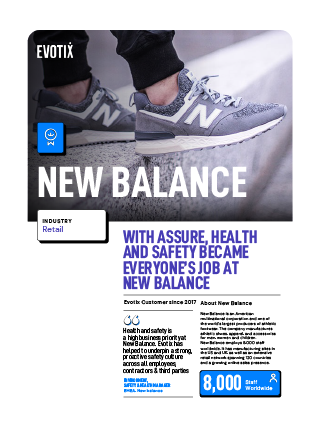 In This Case Study, You'll:
Learn How New Balance Established a Global Standard Technology Platform
Evotix's health and safety platform

has

helped to underpin a strong, proactive

safety culture across all employees,

contractors and third parties at New Balance.

Discover A Few "Aha" Moments


The aim for New Balance was to increase

central visibility of health and safety activities and

performance across operations and retail stores.

Answer Your Big Questions on WHY New Balance Partnered with Evotix


New Balance related that the Evotix

personnel could confidently speak their language

and really understood their pain points and needs,

both on a practical and technical level.
What are you waiting for? Read this case study to understand how New Balance's health and safety program transformed with the help of Evotix.
Frequently Asked Questions (FAQs)
Why should I stop using manual processes to manage my health and safety processes?
What type of businesses should say goodbye to using manual processes to manage safety?
What type of return on investment could health and safety software provide?