Top 10 Safety Trends in Construction for 2023
31 January 2023 - Evotix
It's no secret that working in construction carries a higher risk of injury than other vocations. According to OSHA, 23% of all private-sector-related deaths in the US occurred in the construction industry and in the UK, the fatal injury rate in construction is around 4 times the rate of fatalities across all industries.
From operating heavy machinery to ascending nosebleed-inducing heights, the elements of construction create a dangerous cocktail. Therefore, identifying strategies to protect the health and safety of employees is a key focus for many companies in this industry.
Like any other industry, construction is constantly evolving to adapt to the new ways of the world. During the pandemic, many construction companies had to cut back on staff training and upskilling to facilitate new, rigorous health and safety procedures allowing workers to do their jobs. Keeping up with safety trends is an effective way for companies to ensure their safety processes measure up to the hazards facing their workers today. Here are ten safety trends disrupting the construction industry this year:
1. Working with Covid
No company was immune to the effects of Covid-19, with the construction industry having to welcome a host of new health and safety policies to ensure sites could operate safely. These measures included the enforcement of social distancing, face masks, vaccination statuses and health checks based on local covid rates.
These guidelines were issued by OSHA, HSE and Safe Work Australia respectively, with HSE specifically requiring construction sites to provide adequate welfare facilities and fresh air in compliance with the Construction (Design and Management) Regulations 2015. Companies that were unable to follow these guidelines faced up to thousands in fines.
Although this guidance has since been withdrawn and many companies are back to business as usual, employers in the UK are still required to protect workers who come into contact with Covid-19 directly through or due to their work (under the Control of Substances Hazardous to Health 2002 Regulations) by carrying out risk assessments and implementing control measures.
With so many new rules flying in at once, many businesses relied on software to help them keep track of their policies and ensure that the right processes were in place to meet shifting regulatory requirements.
2. Setting aside time for staff training
As expected, there's a variety of training protocols that construction sites ought to implement to ensure that workers operate safely. We've seen increasingly more studies that indicate just how effective showing an employee how to do their job safely is in ensuring that they carry out the required tasks carefully. This consequently decreases the likelihood of accidents occurring.
Although the type of training required will vary across different construction sectors, the most common courses that workers are likely to need to undertake are Fire Awareness Training, Manual Handling training, First Aid training, Risk Assessment and Accident Reporting training.
Many companies are aware that people absorb information in different ways. To facilitate this, many have adopted the use of software to provide workers with a variety of interactive courses. Such software can also double up as mobile apps, enabling employees to learn and report hazards on-the-go - communicating with one another whilst doing so. Having health and safety documentation stored in one easily accessible space also enables employees to refresh their memory quickly when it comes to new safety processes.
By implementing safety training in this way, you're more likely to engage staff and empower them to communicate risks – creating a safer work environment for themselves and their co-workers.
3. The wearable devices revamping safety
Another trend disrupting the construction industry is the use of wearable technology to monitor employees' safety. Using smart devices like connected wristbands and helmets enables organizations to be more proactive in their safety processes. These monitor a wide range of health metrics such as heart rate, heat and physical exertion to record warning signs that employees and management should be aware of.
If a warning alert pops up, the employee wearing the gear is encouraged to take a time out so they can take a physical break, correct their posture or adjust equipment as required – stopping a potential incident in its tracks.
4. Honing in on mental health
Another positive trend sweeping across the construction industry is heightened awareness of workers' mental health. According to new research, as many as a third of UK construction workers (and 83% of US workers) have suffered from mental health problems – leading to increased drinking, non-prescription drug use, self-harm and, in the most severe cases, suicide.
The intense workload attributed to construction has been linked to some cases – with loss of work over the pandemic and the ongoing cost of living crisis exacerbating these problems. The silver lining is that with mental health talk now widely destigmatized in the workplace, many companies are taking tangible steps to support any members of staff struggling mentally. Such measures include ensuring risk assessments cover both physical and mental health, sharing resources around mental wellbeing and offering practical help in the form of trained peer support.
More people in leadership roles are also speaking up about their personal experiences with mental health – creating a safe space within their organizations in the hopes that this will develop a happier and healthier workforce in the long run.
5. The evolution of safety equipment
Construction companies have long been required to provide PPE for employees by HSE and OSHA (in the OSHA-approved State Plans and the Personal Protective Equipment at Work Regulations 1992 respectively). Although neither body provides a conclusive list of required PPE, examples of PPE given by OSHA include hard hats, goggles, rubber boots with steel toes, hearing protection and eye protection. There is also a responsibility for companies to ensure such equipment is used correctly.
Post-covid, the use of PPE has changed for the better. With workers' health being brought into closer focus than ever before, some construction companies have gone the extra mile by providing employees with innovative new PPE items that not only help keep them safe, but also help them do their jobs more comfortably – such as 3D printed masks and safety footwear made of revolutionary material that helps revitalize blood flow through the legs and feet.
6. Better on-site communication
While construction sites aren't exactly renowned for having open lines of communication, the tide is turning. Many teams now kickstart each day with a morning briefing, enabling management to reiterate safety procedures. These briefings also give workers an opportunity to air any concerns around the effectiveness of such procedures or whether any hazards that haven't yet been discussed have come to their attention.
Bringing real-time data collected from cloud-based software into the mix can help provide stronger, more precise health and safety insights. Such software also enables management teams to give employees a clearer picture of strengths and areas of improvement by presenting this data with eye-catching reports.
7. More regular safety audits
With construction companies placing more of a focus on promoting a safe work environment, it makes sense that many are more regularly conducting safety audits. Performing audits more frequently enables management to keep their finger on the pulse when it comes to enforcing new safety policies.
The benefits of regularly carrying out safety audits are plentiful. They enable teams to determine how effective their health & safety procedures are and quickly implement changes to prevent incidents.
Audits also present an opportunity to ensure workers are truly engaged with current health and safety processes by assessing their understanding of how safety influences specific tasks. By asking employees to provide feedback and insight on hazards, an audit paves the way for a proactive discussion that might otherwise not have happened. Having someone from the outside come in to regularly conduct audits also ensures your team continues to stay on top of OSHA, HSE or Safe Work Australia regulations.
Software can streamline the auditing process by generating safety data into reports where patterns can be more easily seen and issues can be addressed faster.
8. Staying connected through the Internet of Things
Internet of Things (IoT) is the term for devices that are hooked up to other internet-connected devices, creating a network where people collect and share data. As with many other industries, this concept has benefited the construction world – as it enables contractors and their management team to freely share information about hazards and potential incidents in real-time. It's also useful when it comes to sending out reminders to employees of any new safety policies that have come into play as they move from job to job. This not only helps keep different team members in the loop when doing their respective jobs safely, but also helps develop a positive culture around safety within the organization.
9. Alarm systems to spot what can't be seen
There will be some areas within a construction workplace that require an alarm, as the hazard simply can't be seen. Risks that need to be detected using an alarm include dangerous elements or harmful toxins like asbestos. Exposure to these substances can result in employees contracting serious health problems without them immediately realizing.
Many construction sites have installed alarm systems with sensors to detect these substances, enabling workers to take every step necessary to protect themselves in risky areas of work and reduce their overall risk of illness.
10. Making safety a priority
As we've seen, the construction industry's attitude toward health and safety has had somewhat of a makeover – with companies actively making improvements to help their workers feel safer. This includes dedicating more of their time, money and resources to ensure safety is prioritized across the board.
Many construction companies have realized that investing in their workers' safety is not only the ethical thing to do, but it's also lucrative. The costs that a company faces in the aftermath of an incident (including medical costs, legal fees, insurance costs, equipment or property damage) can very quickly drain them of thousands. In fact, OSHA estimates that when the full impact of work-related deaths and injuries is considered, they cost the US economy around $171 billion each year.
Countless studies have concluded that the cost of doing nothing is much higher than the cost of prevention – with the National Safety Council even estimating that each prevented injury or illness saves an employer $37,000 and each prevented fatality saves $1,390,000. It's become abundantly clear for many construction companies that while they have an ethical responsibility to protect workers, they'll also save a significant amount of money by doing so.
How EHS Software Can Help
With cool inventions like wearable tech becoming more common, we're already seeing the increasingly important role technology is playing in providing a safer work environment for construction workers. The truth is technology can actually help companies keep up with most of the safety trends listed above – through the use of software.
Construction EHS Software is a tool that helps construction businesses transform their health and safety program for the better. This software includes features that can help companies achieve most of the objectives that align with these trends, including on-the-go learning to train employees on managing risks and online checklists that help users carry out audits quickly and efficiently. Make sure your software solution includes a configurable mobile app connects employees, enabling them to report incidents, hazards and safety observations at any time, from anywhere.
Construction has and always will be one of the riskier industries to work in. But this wave of new trends, including more awareness around mental health and stronger on-site communication, shows the pragmatism of companies within this industry to consistently find ways to combat new and, sometimes, unexpected risks. By integrating these innovative new processes into your operations, you too can show your business's willingness to adapt and reduce injuries on the job, instilling confidence in you as a company that will consistently ensure your employees are always in safe hands.
If you're interested in learning more about keeping construction employees safe, check out our eBook around job hazard analysis. It'll help you understand how to identify a hazard on the job and what to do to keep employees safe.
RELATED BLOGS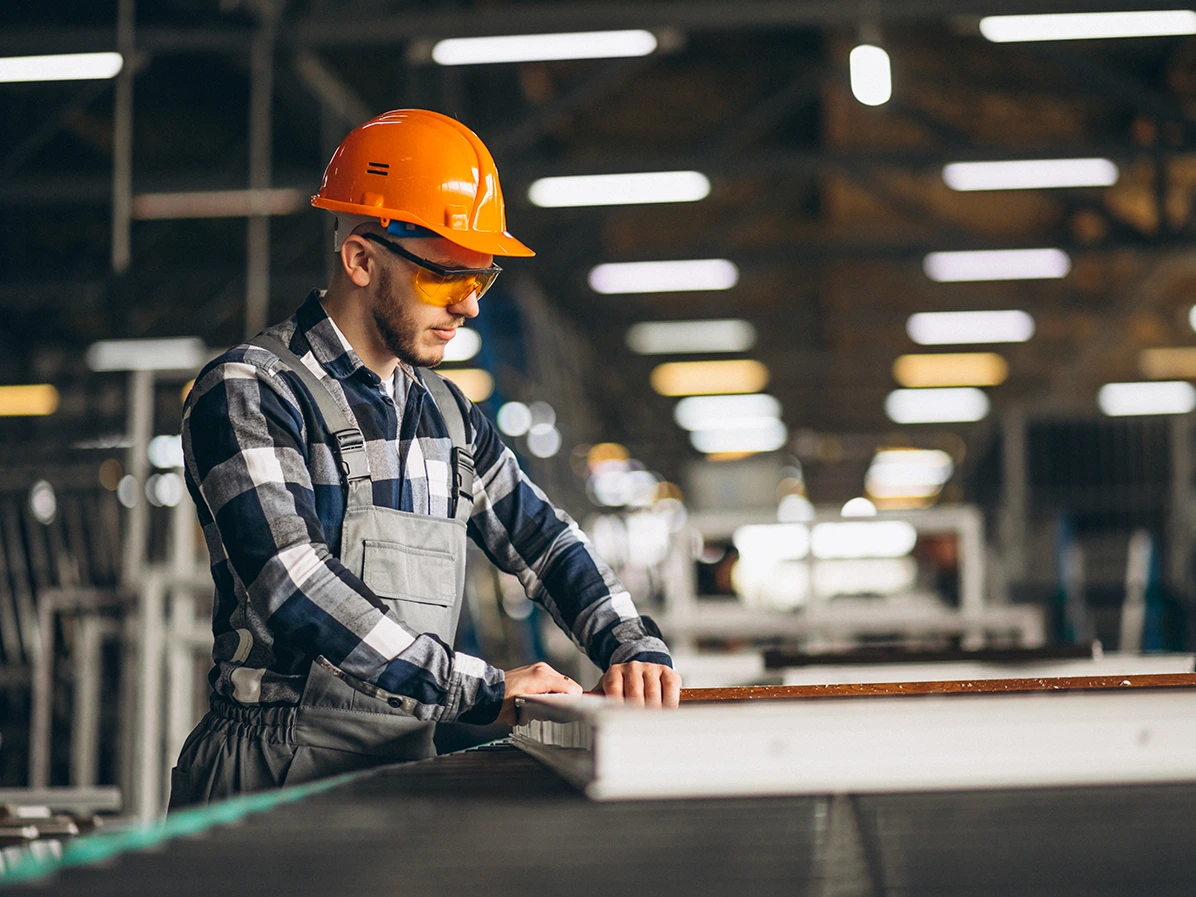 How To Ensure Good Health And Safety Practices In Manufacturing
1 December 2022 - Evotix
The manufacturing industry is an economic powerhouse in the U.S. It's responsible for producing 20 percent of the nation's capital investment, 35 percent of productivity growth, 60 percent of..
Operational Efficiency, Evotix, Safety Priorities, EHS Management Software, EHS
Read Article