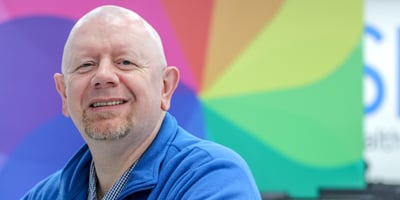 Name : Matt McQueen
Job Title : Software Engineer
Length of time with SHE Software : 13 years as an employee, although I worked here as a contractor prior to that.
Tell us about your role?
I work as a software developer in our development team. I have worked for SHE Software for over 13 years so have seen the growth of the company first-hand!
In a nutshell, my role is to write code to add new features and benefits to enhance our health and safety software solution, Assure. I also mentor and support newer members of the team.
What does a typical day look like?
We follow agile development processes and work in fortnightly sprints. We have daily stand-ups to discuss work completed, priorities for the current day and anything that might impede us.
As well as writing code to develop new features, we also have regular team meetings to discuss new features and plan them into future sprints. There is lots of exciting new features and functionality in the pipeline – so I get to work on some really exciting stuff!
What do you enjoy most about your role?
Teamwork! We have a great bunch of developers and QA testers. I also like that we can learn new techniques and coding practices. You can never stand still as a software developer – there is always something new to learn.
What is the best thing about working at SHE Software?
The people. You can probably guess from my length of service that I really enjoy my role and that's mainly due to the fantastic people I work with.
That doesn't just mean the people in my team – the whole company works together very well, and it's good to chat to other employees who aren't based in the East Kilbride office. It sounds like a cliché, but I really do feel that there is a family atmosphere at SHE Software.
What advice would you give to someone thinking of joining the team?
Join us! There are always opportunities to learn, problems to solve and exciting new functionality to help develop. The development team are a tight knit team and we all support each other to help everyone grow as a collective team.