The Health and Safety Cycle
29 July 2020 - Evotix
A Technology Prescription for a World-Class Health and Safety Program
Since 2010, organisations and universities have conducted safety maturity assessments for the construction, utilities, healthcare, and food and drink industries across countries including in the UK, Canada, and the US. Although 2.9 out of 5 on the assessment was deemed a good score because it was above the average of 2.5, in reality, it is a low bar that does little to ensure employees are safe from harm and accidents.

Setting the bar so low is no longer acceptable in the COVID-19 world. As lock down restrictions continue to ease, to give their employees confidence once back in the workplace, companies owe it to their staff to strive for 5.0—the score that indicates a world-class health and safety program.

Those organisations that want to come through the pandemic stronger need to strive for 5.0. They should be treating health and safety as a cycle of continuous improvement instead of viewing it as a mere compliance exercise that flows linearly from the top down. SHE Software refers to this as the Health and Safety Cycle, and it has five parts. In a sense, it resembles a jigsaw puzzle because if even one of the parts is missing, the cycle is not complete.

This article introduces the five parts of the health and safety cycle and explains how technology drives it.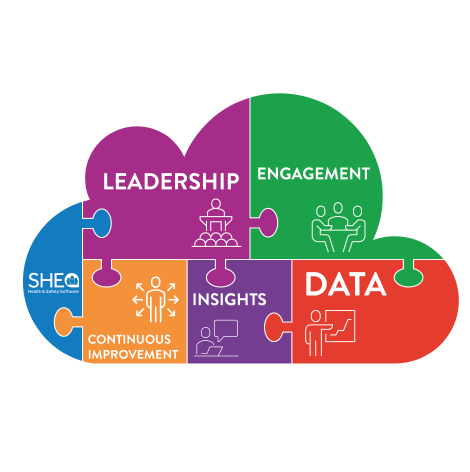 Part 1 of the Health and Safety Cycle: Leadership

Safety performance starts at the top of an organisation. Company leaders establish the culture, develop processes, and help ensure accountability of health and safety. However, the C-suite cannot be the sole source of health and safety leadership. Leaders set the standard, but all managers and supervisors should be part of making safety a priority and giving every employee a safety voice.

Embedding safety leadership at every level will ensure that the entire organisation from the corner office to the shop floor is thinking and talking about safety every day. By involving everyone in the process, an organisation ensures engagement and an alignment of values. The result is an engaging safety culture that leads to improved safety performance. This will organically lead to reinforcing safety as a priority.
Part 2 of the Health and Safety Cycle: Engagement

In a Gallup study of more than 1.8 million global employees and their workplaces, the organisations that rated in the top 25% for engagement had 70% fewer incidents than those in the bottom 25%. But that's not the only benefit. Engaged employees are more likely to buy into the success of a business that improves their productivity and drives increased profitability. Safety becomes a priority for everyone - they want the business to succeed and do not want to see anybody get hurt. Organisations can get that buy-in and encourage engagement by:
Keeping it simple: If participating in health and safety is difficult, then people won't do it. To make it easy for them, remove manual, antiquated, paper-based processes.
Closing the feedback loop: How often has an employee submitted information with no response? Close this input black hole and employees will be empowered to communicate more.
Enabling greater visibility: When you share safety performance reporting with both leaders and employees, everyone in the organisation can then see the difference they are making.
Conducting inspections:
Employees want to feel safe at work. Organisations have a duty of care in ensuring that inspections are regularly taking place and completed on time.
This kind of employee engagement creates a flow of information you can transform into an accurate view of your organisation's health and safety.
Part 3 of the Health and Safety Cycle Data and information

The process of gathering all the health and safety data that flows into an organisation at a volume can be slow and time-consuming, particularly if that data still relies on paper files and documents. Some of it might be generated from sensors installed on equipment - and some of it might be flowing from mobile devices. Fortunately, there are actions organisations can take to overcome data pain points:
Improve the flow, quality and consistency of data: When employees have the power to easily report unwanted events immediately, more consistent, higher quality data flows out.
Make interpreting data easy: Getting insights from raw data, messy papers, and spreadsheets is impossible. Visualisations enable employees to view and understand safety progress easily.
Use dashboards: Easy-to-understand dashboards should be available to all stakeholders to encourage engagement and improve understanding.
Change how health and safety is viewed. At many organisations, health and safety is a chore. Add a feel-good factor to the process by encouraging friendly competition between teams to increase interest and participation in proactive health and safety practices. Everyone wins.
The insights generated by the flow of information from engagement can help organisations make better health and safety decisions.
Part 4 of the Health and Safety Cycle: Informed decisions

Distracted from proactive risk reduction, data analysts and health and safety professionals often spend up to 80% of their time collecting, preparing and analysing health and safety data. After all that work, they often discover that data is missing or duplicated and must make educated guesses about next steps. But it does not have to be that way. With leadership driving engagement and engagement driving data, the data will be of the quality needed for making more informed health and safety decisions.

Here are examples of how the data can be used to inform decision-making:
Trend analysis: Real-time data visualisations can show trends or hot spots that indicate a problem. Trend analysis helps determine if the trend is an outlier of it requires a solution.
Leading indicator tracking: By creating health and safety key performance indicators (KPI's), it is possible to use the leading metrics to drive decisions about how to improve.
Prediction and prevention: Summary reports and metrics can predict where preventative interventions will be most effective.
As informed decisions flow from all corners of the organisation, it is only a matter of time before improvement becomes continuous.
Part 5 of the Health and Safety Cycle: Continuous Improvement

In the Health and Safety Cycle, the continuous improvement generated by the flow of informed decisions can drive a world-class health and safety program. Getting to this point requires eliminating data sources such as disparate spreadsheets and paper documents. Organisations need to use tools that enable them to:
Measure the effects of their decisions

.

Monitor data and compare results with key performance indicators.
Set goals for improvement.

Create,

assign

and track corrective and preventative actions with a structured workflow, triggered manually or automatically.




If a series or pattern signals an issue, stakeholders research it, identify the problem, and make decisions to improve the situation. Eventually, improvement becomes natural. Leadership strengthens, more people engage, data flows in—and so it goes, each time getting stronger.
To learn more about the health and safety jigsaw puzzle, watch our on-demand webinar to learn more.

How Can Technology Help?

Health and safety management software that makes data insights available in real-time creates a cycle of safety awareness that pushes leaders and employees alike toward a safer environment and toward seeing a return on investment. Safety departments can no longer provide leadership reports once a month. As the pandemic has proven, safety needs to be considered every day.

The more engaged employees and leadership feel in the safety process, the more opportunity they will have to voice their concerns, opinions, near misses, incidents, and accidents. Compiling this data can be time-consuming and EHS professionals cannot be everywhere at all times. The right health and safety management software not only gives all levels of leadership access to updated health and safety information in real-time, but it delivers the most accurate data and information. Safety professionals spend less time aggregating and reporting data and more time being proactive within the business, giving attention to their employees' health and safety concerns.

Organisations also need the right tools and processes to eliminate barriers that would prevent employees from easily participating in health and safety. Using safety management software that is easily accessible from their mobile devices enables employees to complete audits, inspections, and assessments as part of their daily activities, 24/7, online or offline. Employees can capture health and safety information in any location instead of searching the office for the correct form and a pencil.

Technology helps health and safety professionals close the feedback loop by assigning corrective and preventative actions with visibility to track progress to resolution. Stakeholders identify trends, track leading indicators and predict where preventative interventions will be most effective—so that everyone in an organisation can benefit from its health and safety programs.

Insights, Predictive and Preventative

Furthermore, the right health and safety software ensures that health and safety management is more than tracking and recording. It uses business intelligence tools that deliver the real-time insights needed to identify trends, track leading indicators and predict where preventative interventions will be most effective. dashboards and visualisations highlight what stakeholders need to know and can easily be shared with others. Health and safety league tables created from data, reports, and other information increase employee participation through positive practices, feedback and friendly competition.

Finally, and most importantly, the right health and safety software enables organisations to implement the ongoing improvement processes needed for world-class health and safety programs. It takes organisations back to the beginning of the health and safety cycle, where leadership drives engagement. Information flows from the engagement to enable informed decisions, which enable more improvement. Then it starts all over again.

The right software ensures that health and safety management is more than tracking and recording for simple compliance. It delivers the tools organisations need to use the information they collect to provide a safe workplace and keep their people safe.

Are you interested in learning more, schedule a conversation here.
RELATED BLOGS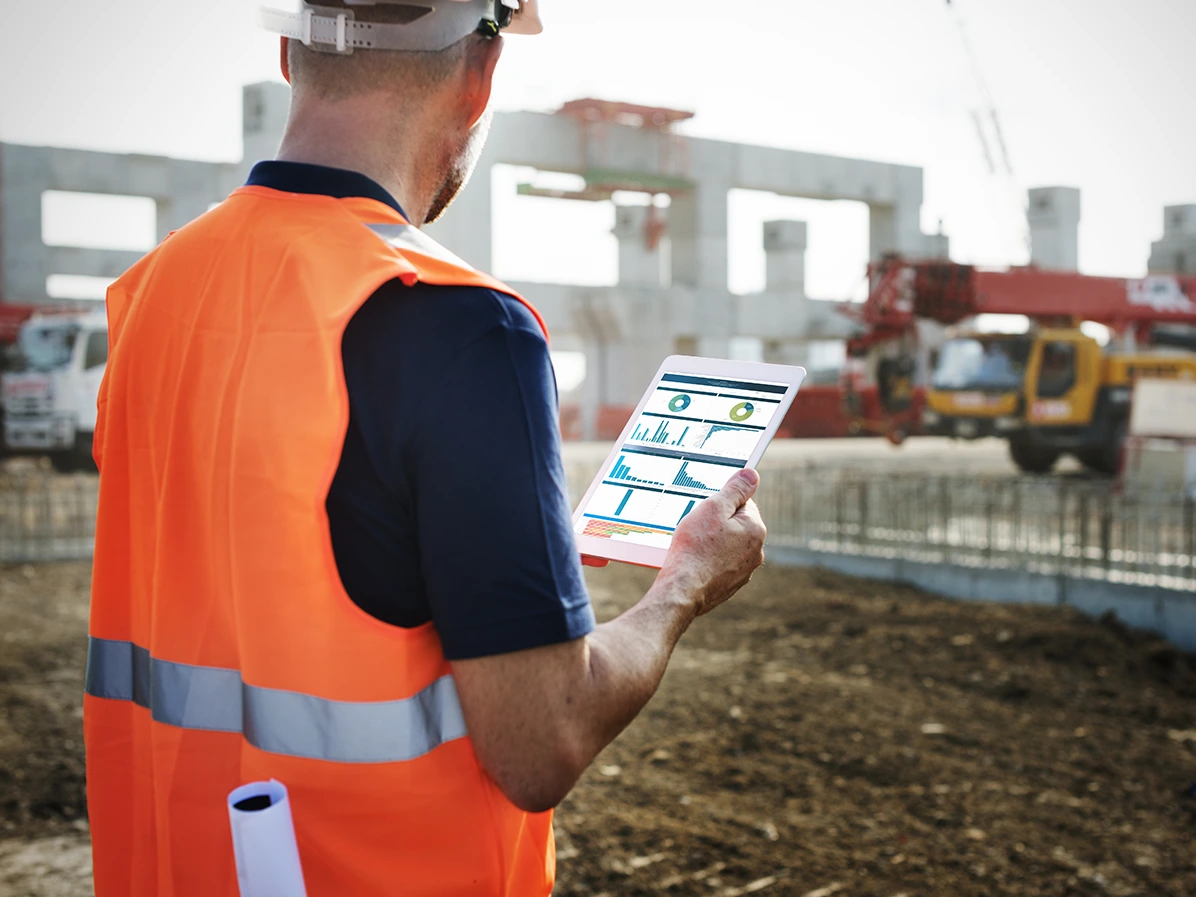 What is EHS Software? The Ultimate Guide
9 March 2022 - Evotix
The rate of workplace accidents is far too high. In fact, in some countries, it hasn't been improving at all. Behind every one of those statistics is a name and a family – and that's why at Evotix,..
Investment in Safety, Operational Efficiency, Safety Priorities, EHS Management Software, EHS, Safe Operations
Read Article