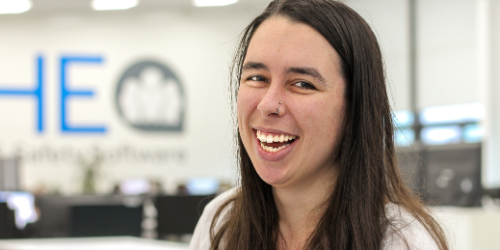 Name : Lauren Fraser
Job Title : UX/UI Designer
Length of time with SHE Software : 1.5 years
What is it that you do?
I am a User Experience (UX) and User Interface (UI) Designer. I am part of the Product & Engineering team and collaborate with customers and colleagues across the globe. My role focuses on providing our customers with the best user experience possible when they use our health and safety software, Assure.
What does a typical day look like?
Each day is different and that's what I love about my role! I can be doing anything from creating screen designs, maintaining a design language, hypothesising outcomes and running User Research to prove/disprove them (I'm a huge advocate for Lean UX).
What do you enjoy most about your role?
There's a lot of variety in the work of a UX/UI Designer, with fascinating questions to answer, interesting challenges, and lots of unique opportunities to work with and learn from our customers.
I firmly believe that we succeed when our customers succeed. I love looking at different ways we can enhance Assure to ensure it remains user friendly, visually appealing, and enables people to achieve outcomes quickly and easily. There is nothing more satisfying than having something that I have worked on being well received by our customers.
What is the best thing about working at SHE Software?
I'm going to have to make this a 'best things':
I love learning and there are huge opportunities to learn here – in part because it's a growing business, but also because SHE Software actively invests in developing its people.
I work with brilliant colleagues - smart, driven, passionate people. We have a laugh and work as 'one team' get stuff done.
I get the opportunity to work on a meaningful product with an inspiring group of customers. As a Designer I could be working in any sector, so it's a great privilege to apply my skills to improving health and safety outcomes and really make a difference – helping ensure workers get to go home safe at the end of the working day.
What would you say to someone thinking of joining our SHE Software team?
Go for gold! 😀