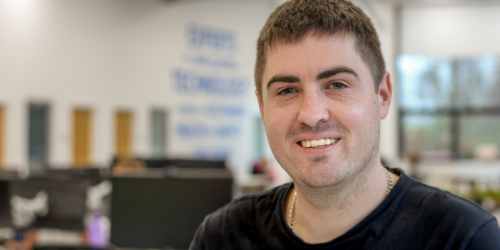 Name : Damian Hooper
Job Title : Software Engineer

Length of time with SHE Software : 1.5 years
Tell us about your role?
I am a software developer at SHE Software and co-manage one of our development teams called Atomic! My role involves writing high quality code to enhance and add new features to our health and safety software, Assure, so it is the best solution in the market.
What does a typical day look like?
I normally arrive early to the office, so the first task of the day is to switch on the coffee machine (I am a bit of a coffee fiend!). Next is to check on the progress of the team via our sprint boards and prioritise that particular day's workload. There is a daily team stand-up at 09:15 and after that I'm coding away for most of the day, alongside completing peer reviews or refinement of future work items.
What do you enjoy most about your role?
I enjoy working on our health and safety software, Assure, and improving the user experience for customers by adding new features and fixing any bugs that arise. I love the working environment that SHE Software offers as there is always a positive friendly vibe around our open office layout.
What is the best thing about working at SHE Software?
Definitely the people. Everyone is friendly, welcoming and always willing to have chat. I believe that the people you work with make your working life enjoyable and SHE Software has a good mix of different people and a fantastic culture.
What advice would you give to someone thinking of joining the team?
If you want to work in an open and friendly environment with people who make your work day fun then apply at SHE Software as you won't regret it.