SHE Software advance to Digital Marketplace G-Cloud 8
2 August 2016 - SHE Software Ltd
Today's announcement marks 5 years for SHE Software as an approved supplier for the G-Cloud Government framework.
Launched in 2012, the Digital Marketplace was created to provide a more time and cost effective buying process for public sector bodies to procure cloud technology solutions.
In March 2015, the Crown Commercial Service introduced the 'Digital Marketplace Strategy' to raise greater awareness, enhance the user experience, improve available support and work closer with both buyer and supplier communities. The service has really benefitted from this drive and at SHE Software we have had considerable success on G-Cloud 6.
As an approved supplier in the Digital Marketplace, we now offer 14 separate solutions within Software as a Service under the cloud technology and support category.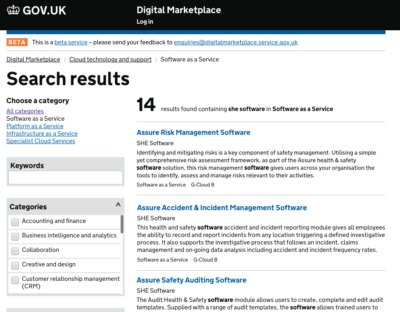 The Digital Marketplace is open to any public sector body (including local authorities, NHS, housing associations, education sector) and lists pre-approved technology solutions on a publicly accessible portal. Organisations can then call off the services listed, removing the requirement for OJEU, RFI, ITT, etc., which otherwise add cost, lengthen procurement processes and create a barrier to SMEs.
With 1 in 4 of our customers coming from the Public Sector, we welcome the efforts of the Crown Commercial Service to make the Public Sector more accessible to SMEs and now believe the sector really understands the benefits and advantages of accessing the Digital Marketplace.
By providing the opportunity to match requirements to suppliers, users can then contact those shortlisted directly to confirm they can meet the organisations' needs (whole life cost, fit with requirements, timescales, after sales service management, T&Cs, financial checks, etc.) and easily identify the most economically advantageous supplier to award the business via call-off contract.
This framework is fully compliant, regulated and refreshed, providing peace of mind to buyers navigating the fast paced market that is cloud based technologies.
SHE Software look forward to supporting more Public Sector organisations through this current framework and providing valuable insight to the Crown Commercial Service on making future G-Cloud frameworks even more successful.
RELATED BLOGS

SHE Software and CIPHR join forces
18 July 2018 - SHE Software Ltd
SHE Software is delighted to announce a new partnership with CIPHR, a leading UK-based Software as a Service (SaaS) provider in the HR arena.
Blog, Partner announcements
Read Article