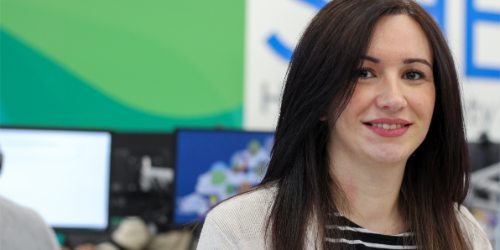 Name : Kirstin Kirk
Job Title : Product owner

Length of time with SHE Software : 8 Months
Tell us about your role?
I am a Product Owner within the Product and Engineering department. My role involves working with an agile development team to build features and applications to enhance the user experience of Assure for our customers.
What does a typical day look like?
I work daily within the agile development teams to deliver great products and services for our customers. My days can be varied, from working with the team to refine features and epics, to working with stakeholders to gather and prioritise requirements and needs of our customers.
What do you enjoy most about your role?
I love the collaboration that we have as a team. I also really enjoy that I get to create and promote the overall direction of the product both internally and externally.
What is the best thing about working at SHE Software?
The atmosphere across all the different departments is energetic and collaborative, with everyone working towards a common goal.
What advice would you give to someone thinking of joining the team?
Come join us! We have a great team here who strive to deliver the best health and safety software solution in the market and work together as 'one team' to make the company vision a reality.