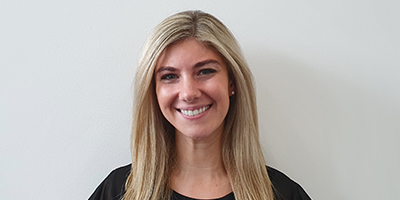 Name : Jenna Appel
Job Title : Business Development Representative
Length of time with SHE Software : 1 Year+
Tell us about your role?
As a business development representative on the sales team, my mantra isn't "always be closing", but to "always be helping". What I mean by this is that I take a customer centric approach to my role in which every day I speak to health and safety professionals from all over North America on the challenges they are facing every day. It's important that in my role I take a consultative approach to make sure that we can help these EHS professionals and organizations to help make their workplaces safer.
What does a typical day look like?
One thing you'll find here is that there is no typical day! Every day is a different challenge and a different conversation with health and safety professionals on how they are managing health, safety and compliance at their organization. I've spoken with organizations that have 10,000+ employees but are still using antiquated methods such as pen and paper to ensure the safety of their workers. Can you believe that?
What do you enjoy most about your role?
It's incredibly fulfilling to see the benefit of my work when I have a chance to hear back from customer on how our health and safety software helped them improve their safety performance.
What is the best thing about working at SHE Software?
The best thing about working at SHE Software is that the work we do is helps organizations send their workers home safe at the end of every day.
What advice would you give to someone thinking of joining the team?
My best piece of advice is if you are the type that wants to dive-in and make a difference then apply!