SHE Software CEO, Matthew Elson Nominated for an Oscar
10 May 2017 - SHE Software Ltd
Described as the 'Oscars for the technology industry', the annual Enterprise Awards in association with the Worshipful Company of Information Technologists celebrate and recognise the very best of the UK's technology entrepreneurial talent.
Matthew Elson, CEO, SHE Software is nominated for a 2017 Enterprise Award.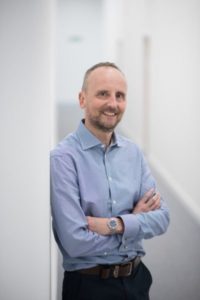 Focused on the exceptional achievements of founders, the Enterprise Awards has recognised some of Britain's most inspirational individuals that have achieved prominence in both private and public markets.

Matthew acquired SHE Software in 2011 and took over full time as CEO in 2014. After initially turning around and stabilising the business, Matthew has assembled a strong and well-regarded leadership team that has consistently delivered 50%+ per annum growth for SHE's cloud-based health and safety software solution, Assure. More recently, the business has successfully launched in Australia and New Zealand. The shortlisting recognises Matthew's achievement in making SHE a dynamic and innovative leader in the UK HSE space and a highly sought after place to work.
Matthew said, "I am delighted (and surprised) to be shortlisted for an Enterprise Award and regard this as vindication for the hard work put in by all of the team at SHE to make our business so successful and such a great place to work."
John O'Connell, Chairman of the Scaleup Group and founder of the Enterprise Awards, said, "Entrepreneurship is hugely important to the UK's economy, never more so now than in these rather uncertain times. These awards are all about celebrating the personal achievements of great business minds, to give them the recognition they deserve but also to inspire more people to have the courage to launch their own businesses and to use technology to bring their ideas to life."
Winners will be announced on Wednesday, June 14, 2017, at the Enterprise Awards ceremony taking place at the Dorchester Hotel in Park Lane, London.
About Matthew Elson
Matthew Elson possesses extensive executive experience in large and small businesses, including as CEO of ESR Technology and as MD of Atkins Management Consulting division. He began his career as an engineer before spending six years at McKinsey as a management consultant. Matthew has an MBA from INSEAD and a First-class honours degree in Engineering, Economics and Management from Oxford University. Matthew acquired the East Kilbride-based SHE Software in 2011.
About SHE Software
SHE Software has delivered solutions to a global customer base over the past 20 years. SHE Software provides insight to implement and sustain an effective health and safety solution that reduces risk in the workplace. Our long-term partnership builds on intuitive software configured to do what you need.
Our latest solution, Assure, is now trusted by more than 700 organisations and half a million individual users. Our customers are people with legal or functional responsibility for complex or dispersed operations where traditional approaches to managing health and safety are challenged by today's complex workplace. We are established specialists in our field who are trusted and good to work with, which is demonstrated by our customer loyalty and rapid growth.
RELATED BLOGS
SHE Software announced as new Principal Sponsor for NZISM
23 May 2016 - SHE Software Ltd
The New Zealand Institute of Safety Management (NZISM) is New Zealand's leading professional organisation for occupational health & safety practitioners and represents the interests of individual..
Read Article