The SHE Software team will be attending the forthcoming HSE Insight Summit in Northern Ireland this week, where delegates and speakers will be looking at some of the key issues facing health and safety – and how safety professionals can address them.

Taking place from 8-10 October in Ballymena, the summit brings together senior decision-makers and business leaders from across Europe to share experiences, discover new ideas, and develop strategies to enable safer workplaces.
Themes for discussion at this year's event include equipping, educating and empowering safety professionals and employees, and how these can best be realised.
Ben Woodruff, SHE Software's Head of Business Development, commented that forums such as the HSE Insight Summit are vital tools when it comes to helping organisations improve their safety management.
He said: "As experts in the application of technology to solve health and safety challenges, we find that the best way to understand the issues that our customers face is to talk to and listen to them and learn from their real-life experiences.
"There's no substitute for this environment of shared learning and we're looking forward to meeting summit visitors to learn more about how we can help them continue to improve their safety performance."
The importance of creating and curating a culture of safety in the workplace will come under the spotlight at the two-day event, as well as understanding how data analytics can drive HSE improvement.
Ben continued: "A successful safety culture is derived from good engagement – from the top down and the bottom up – the intelligent application of technology can prove invaluable in helping organisations to facilitate this.
"When employees are engaged in good safety behaviours they contribute to the conversation, this results in great quality data which in turn will create important insights.
"That high-quality data then allows for more perceptive and accurate analysis which informs good planning, creating the sort of 'virtuous circle' that leads to better risk management – and a safer workplace for all."
The HSE Insight Summit takes place from 8-10 October in Ballymena, Northern Ireland
RELATED BLOGS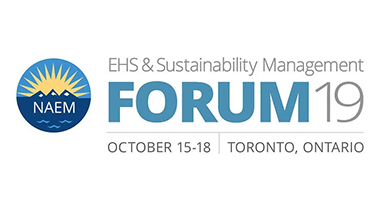 SHE Software is excited to participate at NAEM's 2019 Forum
8 October 2019 - SHE Software Ltd
NAEM's EHS & Sustainability Management Forum is taking place in Toronto on October 15- 18. The NAEM Forum is the largest annual gathering for environment, health, and safety (EHS) and sustainability..
Read Article