Putting people first: key learnings from the European HSE Management Forum 3.0
1 October 2018 - SHE Software Ltd
The importance of centring people at the heart of health and safety, and how technology can support that, was the main topic of discussion when the SHE Software team visited the European HSE Management Forum 3.0 in Amsterdam recently. Tristan Alden, SHE Software's sector lead for energy and utilities, looks back at some of the key points raised and the major takeaways from the event.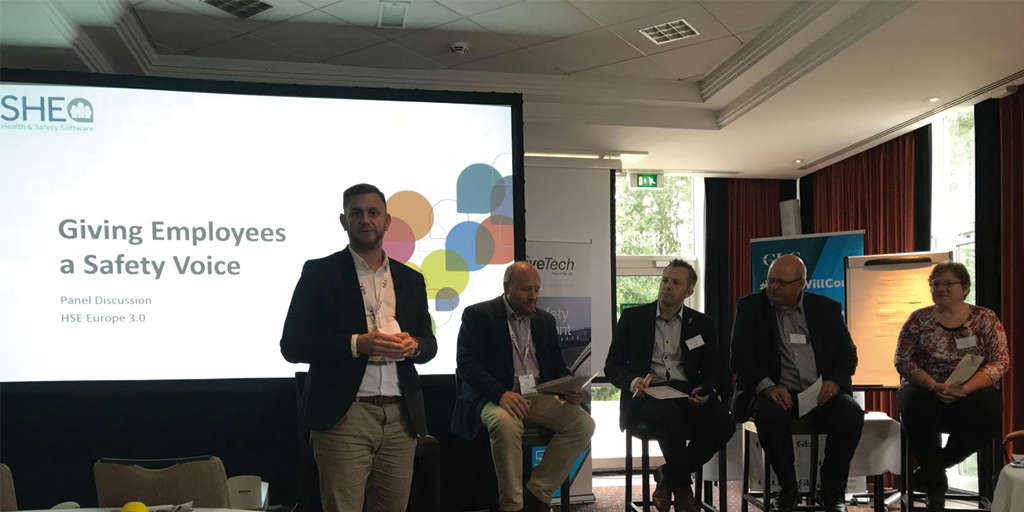 As part of our role as experts in the application of technology to solve customers' health and safety challenges, we talk to hundreds of health and safety professionals every year, and we always enjoy the opportunity to learn from the real-life experiences of those working 'in the field' at conferences and forums.
The European HSE Management Forum brought safety professionals from across Europe together for two days of learning, discussion and the sharing of best practice.
Among many emerging topics, there was a strong focus on the human factors in HSE, and why people are the solution, rather than the problem. Much of the discussion was centred on culture, people and process, and the need to take a holistic approach to safety.
This point was driven home in one of the very first presentations, delivered by Dr David Tjong, Global Director, Health, Safety and Environment for Ideal Standard International. He stressed the importance of getting every employee across the business emotionally involved in health and safety and encouraging staff to share stories of why safety was important to them.
Dr Tjong was among a strong line-up of speakers, packed with highly experienced practitioners who brought their real-life insights to the table.
Kathleen Goossens of ERM presented a session on fatality prevention highlighting that, although the rate of non-fatal incidents is steadily decreasing, fatality rates are increasing: safety performance, while improving, is improving unevenly.
Citing Shell's '12 Life Saving Rules' as an example, she emphasised the importance of a rigorous culture in which all risks are regularly reviewed, and people are constantly reminded of the key safety values of the business.
Another notable session was delivered by Clare Forshaw, former Head of Centre for Health at the Health and Safety Executive, who explored common health problems at work. More than 137 million working days were lost to sickness in the UK in 2016, with 22% of these attributed to musculoskeletal disorders and 11.5% caused by mental health issues. Clare explored whether these issues were caused, at least in part, by the 'blurring' of work and personal life caused by technology and whether this is a work or a personal problem.
SHE Software's panel discussion on giving employees a safety voice and developing a 'one culture' approach was particularly well-received: Julian Taylor, our Solutions Architect Manager, and Ben Woodruff, Head of Business Development, were joined by Dan Platten, Director of Health, Safety and Security at Skanska Costain Strabag, Sarah Sargent, Corporate HSSE Performance Manager for HS2, and Willie Ryan, Safety, Health, Environment, and Quality Director for Actavo. This was a great opportunity to look at real-life examples of why good engagement is fundamental to successful HSE management, and threw up several interesting points for consideration.
While there was plenty of room for debate, there was definite consensus on the fact that the more you know, the more you can improve. Shahana Buchanan, Nestle's Process Safety Program Manager, backed this up by underlining the importance of anticipating accidents through predicting unsafe behaviours, and described how the business had experienced a huge increase in engagement as a result.
While the importance of putting people first formed the heart of the discussion, the beneficial role that technology has to play in supporting a successful safety culture was also of keen interest to those attending.
In an increasingly data-driven environment, technology can enable HSE professionals to automate time-consuming processes and allow them to leverage data intelligently, freeing up time and facilitating a move towards a proactive approach. This opens the door to enhanced safety conversations, rather than the demands of an enormous and time-consuming administrative burden.
The overall mood of the conference was positive and proactive, with delegates and speakers alike looking to embrace the future, and the benefits that technology can deliver in improving safety performance – and helping keep workers safe.
RELATED BLOGS
SHE Software eyes international expansion following £3m funding deal from NVM Private Equity
20 February 2018 - SHE Software Ltd
SHE Software has secured a £3 million growth capital investment from NVM Private Equity (NVM) as it prepares to enter international markets with its highly configurable health and safety software and..
Read Article