Health and Safety download with…Bethany Willmer
20 December 2019 - Evotix
Now more than a year into her current role as Assistant Accountant in the Finance team, we speak to Bethany Willmer on life at SHE Software, find out about her charitable activities, and how these have made her a leader on social responsibility within the business.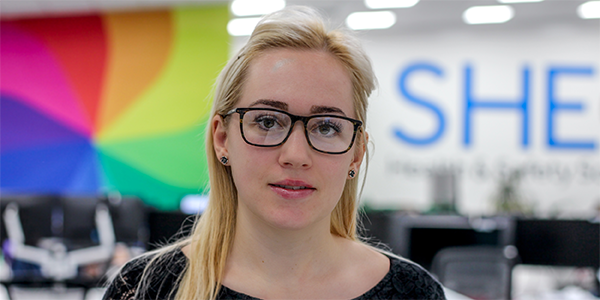 Hi Bethany, can you tell us a bit about yourself?
I am currently working towards my CIMA qualifications and recently transitioned to management level examinations. I also do quite a bit of charity work, which I love. Having previously found myself in challenging times and in need of support from a charity, I know first-hand how important and life-changing these great organisations are – so it's important to give back!
What brought you to SHE Software?
I welcome change and tend to thrive in a dynamic environment. SHE Software is a fast-growing business and is full of exciting new challenges, so joining and helping it succeed in its scale-up journey was an opportunity that I wasn't going to miss.
What is it that you do?
I joined SHE Software in August 2018, working closely with both the Finance Manager and the Vice President of Finance. My day-to-day activities cover a range of duties, but I routinely work on producing the monthly management accounts and analysis of costs versus budget, while also assisting with Scottish Enterprise grants as well as various other ad-hoc duties.
What have been your greatest career achievements to date?
In September 2019 I became part-qualified – I was very proud because I work full-time, and my CIMA studies are something that I do entirely on my own time. Managing the balance between work, study and personal life has been challenging, but having accomplished everything so far has given me the momentum to keep on going and reach the next level.
What's a "typical" working day like for you?
Customer intimacy is something we are all very focused upon. My daily work involves exactly that. I work closely with many colleagues across the business to ensure that the information required is provided in a user-friendly way. This varies from assisting employees with expenses claims, processing journals, making processes more efficient and providing management information to aid decision making.
You play an active role in SHE Software's charity committee. Why is this so important to you?
'Giving back' is something that is very close to my heart. Being on the charity committee means I can continue fundraising and creating awareness of our chosen charities within the business. The great causes we are backing this year are MIND, a charity that supports mental health, and Erskine, which assists veterans and their families.
In addition, we have a food donation box in our East Kilbride headquarters where staff always give generously, the contents of which are dropped off every couple of months to a local food bank, Loaves and Fishes.
We have also taken the initiative by asking our employees to put all their empty cans and plastic bottles into a box, which a colleague kindly takes to a local supermarket in exchanges for coupons. We've collected over 1,000 pieces of recycling in just three months, which has been turned into more than £50 which has been spent on food for Loaves and Fishes.
You are also a very active volunteer outside work. What do you do?
I am extremely proud to have been recently awarded the Saltire Summit Award, which came shortly after receiving another Saltire Award for 200 hours of service to our communities.
My volunteering hours have been spent helping different charities in local communities, including Riding for Disabled, which provides life-changing experiences for children and adults across the UK. While at university, I also provided financial assistance to Scottish Throughcare and Aftercare which was extremely rewarding.
One of my most memorable volunteering experiences was with Shelter, which was a very humbling experience. We were decorating a family's home, and when the parents came in later that day and saw that their daughter's bedroom was painted pink (she was desperate for a princess themed room) there were tears in their eyes. It's a moment that I will never forget.
When you are not working, how do you relax?
I love challenging myself, either in the gym lifting weights or in the kitchen with my oven gloves on pretending to be Mary Berry.
I also have a Springador – anyone who knows the breed will tell you that those dogs need to be kept constantly on the move! We go running and I take her to doggy social sessions, which keeps me very busy.
What is your guilty pleasure?
I am a secret gamer. When I get the notion, I will happily sit and play the PS4 or stay on the PC for a solid eight hours, only taking time out to grab some snacks.
Describe yourself in three words.
Motivated, Consistent, Committed.
RELATED BLOGS

G's Group scoops top health and safety accolade with help from SHE Software
14 March 2018 - Evotix
International fresh produce company, G's, lifted the coveted 'agriculture, food and beverages' gong at last night's Verdantix HSE Innovation awards in London following the successful implementation..
Read Article