Previously, Councils in New Zealand had a varied approach to the assessment and evaluation of health and safety systems submitted as a part of tenders and for work completed under contracts and purchase orders, and in some instances Contractors involved in non-tendered work often had no or inadequate health and safety systems in place.
As part of a drive to better manage contractors in the new health and safety environment, a number of Waikato and Bay of Plenty councils in New Zealand have recently launched an online initiative that uses a SHE Software solution to capture contractors' health and safety management systems and insurance details, enabling them to pre-qualify for work with councils participating in the scheme.

In a bid to work with like-minded providers that understand the importance of standardization, the Local Authority Shared Services (LASS) was formed. This initiative between local authorities in New Zealand has become a common approach to improving outcomes and aims to lessen the cost of services across different councils, providing benefits for all stakeholders concerned.
As industries move towards paper-free offices and IT integration, LASS required this contractor assurance solution to be user-friendly, functional, adaptable and future-proof where possible and as the provider, we understand occupational health and safety, the dynamics of the industry and the positive impact this can make.
The process implemented by SHE Software will help Councils ensure contractors working for or on Council assets and/or supplying services have effective health and safety systems in place, to prevent harm to people and the environment or damage to property.
For contractors, the new scheme will make them compliant to work for all councils participating in the scheme and remove the need for them to supply separate details to each council or for each contract sought. In essence, it allows contractors to "do it once and do it right".
Councils currently involved are Hamilton City, Waikato Region, Waikato, Waipa, Thames-Coromandel, Hauraki, Matamata-Piako, Otorohanga, Waitomo, South Waikato, Taupo and Rotorua District Councils. Councils in the Bay of Plenty will start using the system this month (November), and from March 2017, councils throughout New Zealand will be able to participate.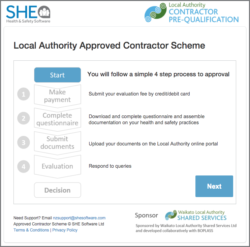 Contractors need to complete an on-line questionnaire and provide their health and safety documentation to show that they understand and comply with the Health and Safety at Work Act 2015 and any associated Regulations.
Applications are then evaluated by a health and safety professional and, once the evaluator is satisfied with the contractor's health and safety management systems, the contractor receives a confirmation email advising of their 'approved' status.
Once a contractor is 'pre-qualified,' their status is valid for two years at all participating councils. Automatic email notifications will be sent two months prior to the expiry of any pre-qualification. The pre-qualification process is not a guarantee of work; however, it may give the contractor an advantage in the selection process as they will have already met the Council's pre-requisite health and safety expectations.
Insurance checks will be conducted annually and new certificates requested as existing insurances expire. Participating councils will not allow contractors to carry out work for them if they cannot prove that they are adequately and appropriately insured.
Site-specific safety plans will still be required when physical work is to be carried out, and council representatives will monitor the performance of each contractor.
As contractors become pre-qualified, company/industry details will be accessible on a shared database. This will provide visibility to contractors and council staff to identify who is approved, assisting with the tendering process and council procurement.
The scheme will be available to councils throughout New Zealand from March 2017 and will significantly contribute to the government's objective of reducing the incidence of work-related accidents in New Zealand by 25% by the year 2020.
RELATED BLOGS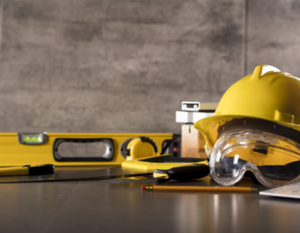 Contractor safety is as important as employee safety
22 September 2017 - SHE Software Ltd
The retail chain, Iceland, has been fined £2.5 million following a sentencing hearing after the death of a contactor at one of its stores in Rotherham.
Read Article